Old Greeting Cards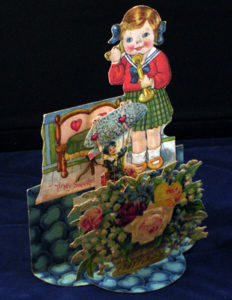 We are very fortunate to have in our collection over 100 old greeting cards (Christmas, Valentines, Easter, and Birthday). Our current "On Exhibit" collection features cards that can be described as:
3-D Pop-Up, Fold-Out, Cut-Out cards, with or without paper lace
Embossed, Gold Foiled Postcards
Mechanical Embossed Cut-Out Card which gives the appearance animation
Mechanical Cut-Out Card which reveals something when a lid is lifted.
Click on the links below to view the collection online or make an appointment to see the collection first hand.