The railroad, which ran its last passenger train through Princeton on March 7, 1953, was once known as the Boston, Barre, and Gardner.
Permission was granted to build it in sections, the first to extend from Worcester to Princeton, the second from Princeton to Gardner, and the third from Princeton to Barre. This last section was never built, but the name clung until the road became known as the Peterboro Division of the Boston and Maine. It was finally completed in 1871.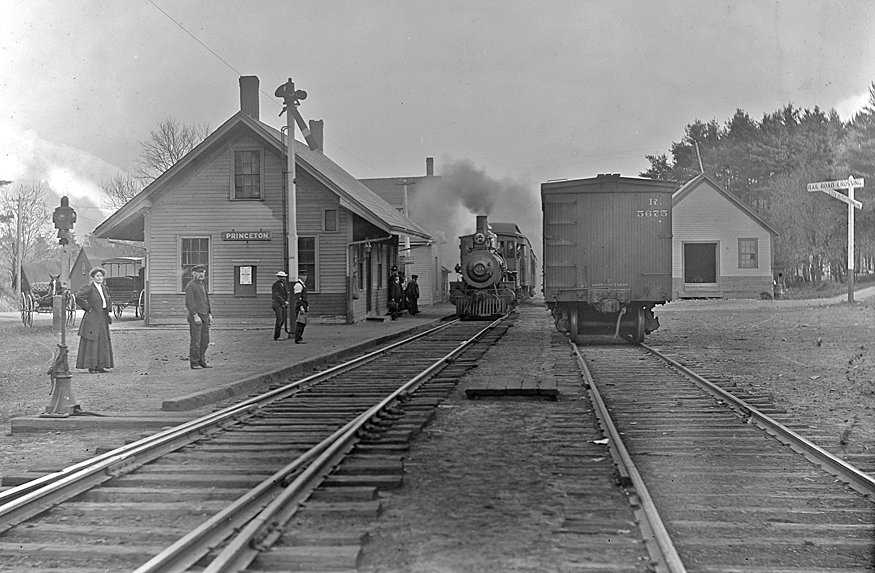 The original proposal was to lay the railroad track much nearer Princeton Village and have the depot about where the old school building now stands on Boylston Avenue, but the hotel-keepers and others opposed this location on the grounds that a "rough element" would thereby be brought into the very center of the town. Therefore, the two stations were located 2.5 miles to the south and west.
At the zenith of its popularity, as a means of transportation, sixteen trains a day passed over the rails. It was possible to catch the 5:30am train to Worcester, thence travel to Providence, on the Westerly R.I., transact business and return the same day in time to take the old "7 o'clock" from Worcester to Princeton. About the turn of the century, for the convenience of Boston commuters, a spur line from the Massachusetts Central connected R.T (what does this stand for? Does she mean R.I.?). and the Peterboro in Jefferson at Carr's Junction, enabling one to board the train at Princeton and without changing cars arrive in Boston's North Station.
Both the Princeton Depot and Brooks Station were busy centers. Besides the many coaches, milk and baggage wagons, the private carriages of the Allen's, Bullock's, Washburn's, Goddard's, Perkins's, and others daily met the more popular trains.
The silencing of the familiar clickity-clack of iron wheels over rail joints has closed a chapter in the history of Princeton, as well as in the lives of those who remember with a touch of nostalgia the hey-day of railroading in this country.
Miss Ethel Mirick
This was copied from the Princeton News, Vol. II, No. 4, dated April 1, 1953, and updated/clarified in August 2015 by the PHS.